Blush is powered by Vocal creators. You support
Jacqueline Hanikeh
by reading, sharing and tipping stories...
more
Blush is powered by Vocal.
Vocal is a platform that provides storytelling tools and engaged communities for writers, musicians, filmmakers, podcasters, and other creators to get discovered and fund their creativity.
How does Vocal work?
Creators share their stories on Vocal's communities. In return, creators earn money when they are tipped and when their stories are read.
How do I join Vocal?
Vocal welcomes creators of all shapes and sizes. Join for free and start creating.
To learn more about Vocal, visit our resources.
Show less
10 Reasons You Should Add Vitamin C to Your Skincare Routine
Did you know that vitamin C can actually reduce the appearance of fine lines and wrinkles on your face? These are the reasons why you should add vitamin C to your skincare routine right now.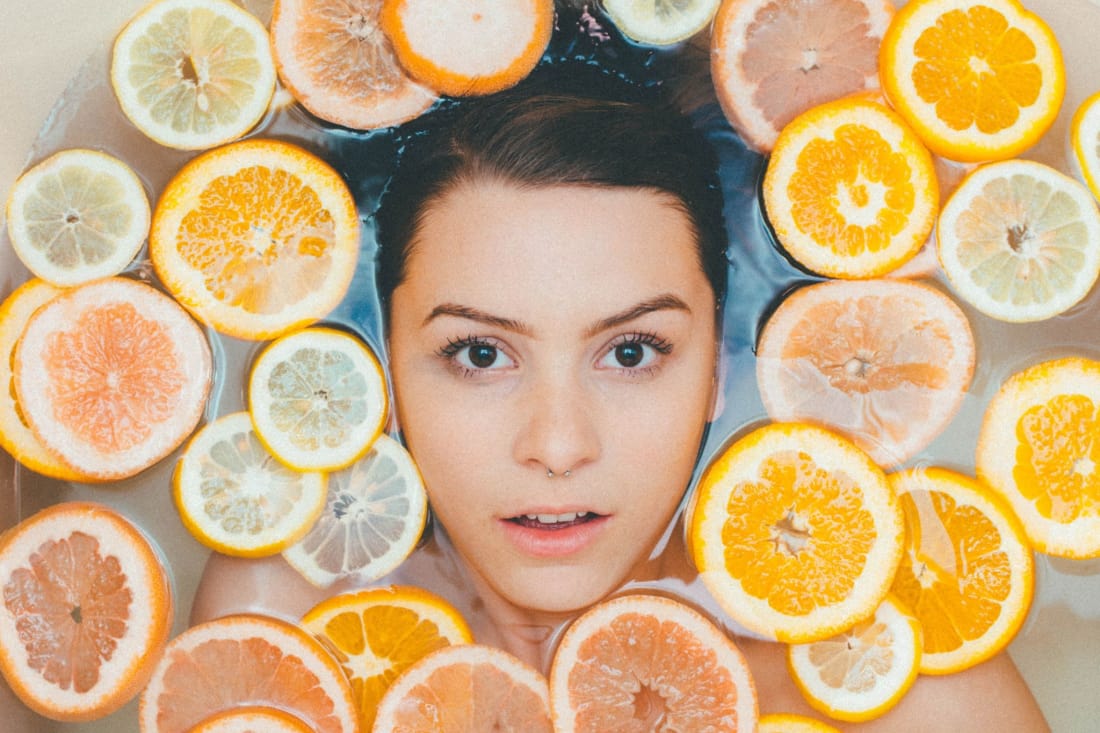 Vitamin C is necessary for the growth, development, and repair of all body tissues. Since it's so involved in many of the body's functions, have you ever thought about including it in your skincare routine? Once I found out that my friend Karen was heavily involved in buying vitamin C skincare products, it was no wonder why her skin always looked refreshed and amazing. She mentioned how her new skincare routine positively and drastically changed her skin!

Since my current skincare routine wasn't really doing anything but preventing pimples from surfacing, I decided to test out the vitamin C skincare routine, too. Not only did I want to prevent acne, but I wanted my face to look brighter, feel softer, and continuously lock in moisture because I have combination skin with certain dry areas on my face. Even the top superfood skincare products are loaded with Vitamin C. After purchasing and using a couple of skincare products that include vitamin C in my routine for a few weeks, I noticed how amazing my skin started to look. Check out the reasons why you should start to add vitamin C to your skincare routine!
It can calm down discoloration.
In the mornings, my skin looked its best since it had a refreshing rest. However, as the hours passed, my skin slowly started to gain a few blotchy red spots on my cheeks and around my nose. I absolutely hated it because the discoloration was so obvious; I looked like an utter mess. Ever since I started including vitamin C in my morning and nighttime skincare routine, my skin hasn't looked blotchy since!
Vitamin C is known for reducing horrible redness on the skin, helping you achieve a balanced out skin tone and better complexion! Korres' Wild Rose Vitamin C Active Brightening Oil is a great skincare product that's great for calming down your skin's discoloration and giving your skin a consistent tone. This brightening oil is perfect for all skin types and it's built to shape dull and uneven skin tones. It features ingredients like real wild rose petals and ultra-concentrated vitamin C to improve your skin's appearance!

It brightens the skin.
My skin used to be so dull looking before I started using vitamin C skincare products. Since it was so lifeless, the marks and scars on my face would show even more. After a few weeks in with my vitamin C skincare routine, my face has never been brighter and more refreshed looking! Main proteins in your skin like collagen and elastin need vitamin C to strengthen them. When you add vitamin C to your skincare routine, these proteins are strengthened and your skin will start to look more vibrant and alive!
Korres' Wild Rose and Vitamin C Advanced Brightening Sleeping Facial is an amazing product that's designed to brighten your skin overnight. This facial in a jar can even out skin tone and improve the look of your skin's texture for brighter results! Your skin will have a luminous complexion after using this product in just one night.
It locks in moisture.
My skin used to be the absolute worst in the winter because it would always be dry. One step outside into the brittle cold and my face was frozen dry. Now I don't have to worry about the winter draining the moisture from my skin with vitamin C as my secret weapon in my skincare routine! You need moisture in your skin every single day to help keep your skin's youthful appearance. When you add vitamin C to your skincare routine, this can keep the skin hydrated much longer and leave it feeling plump!
Peter Thomas Roth's Camu Camu Power C X 30 Vitamin C Brightening Moisturizer is definitely the moisturizer that you need to replenish moisture back into your dry skin. It's designed to deeply nourish the skin and it supports natural collagen while firming, smoothing, and improving the skin's appearance as a whole. This skincare product is highly concentrated in vitamin C to give you the best hydrating results! Plus, we know Peter Thomas Roth is a great brand, skin we tried out their mask-a-holic kit. 
It reduces the appearance of fine lines and wrinkles.
Even though I'm only 23 and hardly seeing any fine lines and wrinkles on my face, I definitely want to prevent their appearance as early as possible. When I discovered that one of vitamin C's main benefits is reducing the look of wrinkles and fine lines, I couldn't be any more set with my skincare routine. Vitamin C can rejuvenate your skin to look healthy and reduce the appearance of wrinkles on your face, and that's always a plus!
Clinique's Fresh Pressed Daily Booster with Pure Vitamin C is a product you want if you don't want to get any fine lines or wrinkles at an early age. It possesses a unique anti-aging formula that harnesses the power of pure, fresh vitamin C that concentrates on brightening, evening out, and retexturing your skin.
It stabilizes vitamin E.
As an antioxidant, vitamin E is similar to vitamin C where it can fight the formation of free radicals. When you add vitamin C to your skincare routine, it helps stabilize vitamin E. In addition, both vitamins work well together in reducing the appearance of aging! You can never have too many vitamins in your skincare products to offer you your skin's best results.

When you use vitamin E as an oil, it can improve your skin's hydration; it's also known to support cellular turnover on the skin, which is when your skin produces new cells. You also might be using some DIY vitamin E masks to make your skin naturally glow. If you have vitamin E in your skincare routine, include vitamin C products to give you better results.

It reduces inflammation.
Whenever I woke up in the morning after a night of drinking, my face almost always looked puffy and even a little inflamed around the eyes and cheeks. Sometimes, the puffiness wouldn't go away until the middle of the day! My skin hated it when I placed ice on it, but now that I have a vitamin C skincare routine, my face doesn't look puffy at all... no matter how many shots I took the night before.
This is really why you should add vitamin C to your skincare routine; it reduces inflammation! You'll never have to place ice on your face or frozen spoons on your eyes anymore.

It compliments collagen synthesis.
The only way for our skin to have that youthful glow again is through the production of the protein, collagen. When we age, our skin just naturally creates less collagen than it used to during our younger days. The less collagen our skin is producing, the more our skin is aging and forming wrinkles and fine lines. However, vitamin C can be your hero and save your skin from aging when you're still young! This vitamin can boost collagen and keep your skin looking and feeling plump.

Dr. Dennis Gross' C+ Collagen Brighten & Firm Vitamin C Serum is one of the best serums out there that enhances collagen in your skin for a more youthful glow. This fast-absorbing gel-serum is packed with 3-O C vitamin C, collagen amino acids, and other ingredients that can make the skin super smooth and leave behind a luminous complexion.
It supports UV protection.
Even though I love to tan, the sun's harmful UV rays are the absolute worst for your skin. It can severely dry out your skin, emphasize visible signs of aging, and leave you sunburnt—which is why you should always wear sunscreen! When you add vitamin C to your skincare routine, this boosts your skin's protection against the harmful UV rays.
One of the best vitamin C skincare products is Perricone MD's Vitamin C Ester Brightening Serum. This serum not only helps with uneven skin tone, reduces anti-aging signs, and brightens the skin, but it spreads out a protective UV layer across your face! The vitamin C in this serum works as a powerful shield to help prevent sunburn and drying.

It speeds up the skin's healing process.
In the past, I had pimples showing up on my face nearly every day and would pop them, leaving behind horrible scars. Even to this day, I'll get a zit here and there, but the aftermath isn't as bad anymore since I use vitamin C products. My acne scars from past pimples have disappeared much faster when using vitamin C compared to the other acne products I used to use. Since vitamin C is known to speed up the body's natural healing process, this also means the face, too! It can quicken the process of healing any acne scars, blemishes, or even small cuts on your face.
Kiehl's Powerful-Strength Line-Reducing Concentrate is a powerful skincare product that helps visibly minimize pores, heal scars, and leave your skin feeling a lot smoother! It contains key ingredients like vitamin C, fragmented hyaluronic acid, and much more to help you get rid of acne, fade scars, and leave your skin with a balanced texture.
It can reduce under-eye circles.
Lastly, the skin around our eyes is the most sensitive part of our face because the skin is so thin. I used to stay up late during the nights either doing work or simply catching up on my shows. Not only did I hate myself for my lack of sleep, but the dark circles under my eyes were horrendous! I really wanted to focus on getting rid of those under-eye circles and when I noticed that vitamin C helps with that, too, I saw a drastic difference a few weeks in with my vitamin C skincare routine! When you add vitamin C to your skincare routine, it can help even out the skin tone and reduce the appearance of under-eye circles. It's the perfect ingredient for those who got dark circles from lack of sleep and want a more youthful and brighter under-eye appearance.
Drunk Elephant's C-Tango Multivitamin Eye Cream is the best vitamin C under-eye cream that works like a charm for your dark circles. It's a rich and restorative eye cream that includes a brightening combination of eight peptides, five forms of vitamin C, and cucumber extract to firm and strengthen the skin around the eye area.