Blush is powered by Vocal creators. You support
Jennifer Violet
by reading, sharing and tipping stories...
more
Blush is powered by Vocal.
Vocal is a platform that provides storytelling tools and engaged communities for writers, musicians, filmmakers, podcasters, and other creators to get discovered and fund their creativity.
How does Vocal work?
Creators share their stories on Vocal's communities. In return, creators earn money when they are tipped and when their stories are read.
How do I join Vocal?
Vocal welcomes creators of all shapes and sizes. Join for free and start creating.
To learn more about Vocal, visit our resources.
Show less
Best Gifts for Skincare Addicts
Know someone who can't get enough of skincare products? Then gift her any of the best gifts for skincare addicts to fall in love with.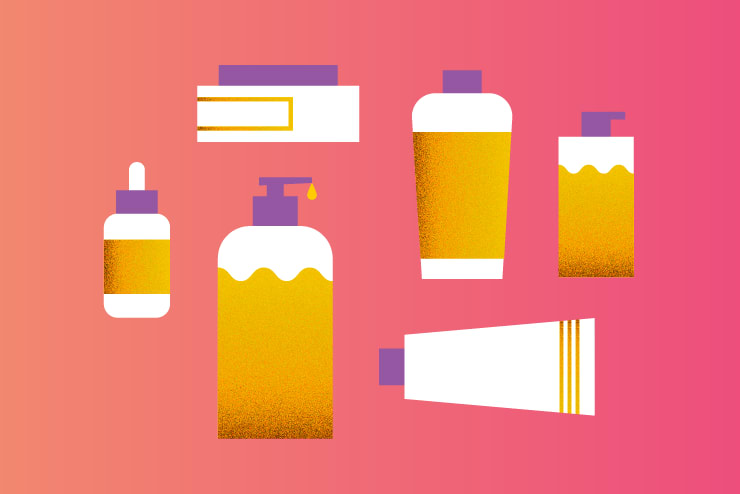 Skincare products are the key essence to achieving healthy and youthful-looking skin. There's just so many products out there that we can play around with and help restore hydration and demolish any imperfections on our skin. As much as skincare brands release their most up to date products, we can never get enough of them. Skincare addicts can never ever have enough of anything. They have about 20 products just for removing dirt and oils. Eighty skincare products for replenishing hydration. Over 100 facial masks for literally any advantage you can think of. And they still believe that they need more. Crazy, I know, but I'm certainly one of them.
In this case, finding a gift for a total skincare lover is really easy. Trust me on this, they only want to open a present to any form of skincare product. It doesn't even matter what the product does for their skin. As long as it maintains their gorgeous skin, they'll love it. So, if you happen to know a skincare nut and her birthday is slowly approaching, any of these gifts for skincare addicts will be her favorite gift of the year.
Ready to Glow Collection by Foreo
I guarantee you that your friend knows exactly what this product is, what it does, and everything else in between. Whether she's been dreaming of getting her very own cleansing brush, or definitely needs a new one after abusing her old one for months now, this collection by the popular brand Foreo is perfect. The collection comes with a mini cleansing brush with two day and night cleansers. The T-Sonic pulsations activates the cleanser's transformation textures and even active ingredients to enhance a better cleansing for every use.
The T-Sonic cleansing brush is known to get rid of any blemish-causing impurities while continuing to be gentle on the skin. It's designed to dig deep into the pores, remove any pore blockage, and clean any form of dirt and oils without actually stripping your skin's natural oils and over-drying. If your friend has a few skin problems or is really into deep cleansing for both her day and nighttime skincare routine, this is the ideal gift. The T-Sonic also comes in different colors like black, blue, yellow, and others if she's not into bright pink.
Grab and Go Travel Set by Mario Badescu
Mario Badescu is an all-time favorite and super popular skincare brand that's loved by so many skincare addicts. The brand releases the best products for all skin types. Dry or super oily, Mario Badescu has everyone and anyone covered in achieving their dream skin. As for getting your dream skin and one of the best gifts for skincare addicts, this travel set can help your friend if he's dealing with skin issues. Gentle but powerful at the same time, the gift set comes with the brand's two most popular products—their Drying Lotion and Facial Spray with Aloe, Herbs, and Rosewater!
I personally use the two and both products work wonders! The Drying Lotion is designed to specifically fight blemishes, acne, and any form of zits. Your friend can dip a Q-tip into the formula and apply it to any annoying blemish that appeared out of the blue and leave it on over night. The product will dry out the zit while your friend sleeps, and in the morning, the size should reduce tremendously or vanish as a whole! As for the Facial Spray, it replenishes hydration and nutrients into your skin. Your friend can use the spray as a toner, setting spray, or spray anytime of the day when his skin is feeling dry. The aloe, herbs, and rosewater is amazing on the skin, and this facial spray can give him a more vibrant-looking skin.
Original Coffee Scrub by Frank Body
Have you heard of the super popular coffee scrub? Seen as one of the best gifts for skincare addicts you can get, the original coffee scrub by Frank Body is an amazing scrub that's known to scrub away any dry, flaky skin, and resulting to really soft and smooth skin. You friend without a doubt knows about this product and brand, so it's a must on gifting her this!
The scrub is formulated with organic cacao extract, which contains more antioxidants than blueberries, and it fights pollution and fine lines. With vitamins like A, E, and D, your friend's skin will be restored with hydration and nutrients for the best feeling and looking skin ever. Not to mention the coffee scrub smells amazing, it's vegan, and free from PEGs and parabens. 

Multimasking Mask Treatment Set by GLAMGLOW
Now this is a dream set any skincare addict would die for! The Multimasking Mask Treatment Set by GLAMGLOW is certainly one of the best gifts for skincare addicts you can possible give to your friend. GLAMGLOW is known to be among the high-end and all-time greatest skincare brand on the market. With amazing facial masks and other products that are great for the skin, people praise their products.
This set comes with almost all of their facial masks in sample sizes, including their most popular in the biggest size, the Supermud mask, which is known to be one of the best clay masks ever. Your friend is basically getting a taste of each mask and their benefits. From hydration to anti-aging, brightening, and detoxing, your friend will have her very own spa in this one set. 
Maracuja Oil by Tarte Cosmetics
Tarte Cosmetics creates among the best makeup products out there, and their skincare items are no different. Their Maracuja Oil is just one of the greatest gifts for skincare addicts ever, and it's perfect for someone who needs a serum for brighter and healthier-looking skin. And this Maracuja Oil gives off a radiant complexion without your skin feeling greasy.
The powerful facial oil is not only vegan, but it's cold-pressed from the maracuja fruit to naturally brightening your skin with vitamin C and restoring any essential fatty acids. Just a few drops for daily moisturizing is ideal to keep your friend's skin hydrated throughout the day. Even during the colder seasons when the air is windy and dry, the Maracuja Oil is perfect to prevent the cold air from drying out your friend's skin. The oil is also acne-prone and you can mix it with your foundation to enhance the moisture.

Men's Skincare Sampler by Ulta Beauty
Men definitely want healthy and younger-looking skin, too! That's why this Men's Skincare Sampler is among the best gifts for skincare addicts. The set is literally what any man dreams of having when it comes to taking care of his skin. While it comes with ten products, the price is about $9.97!
The set comes with Anthony Exfoliating and Cleansing Bar, Clinique For Men Maximum Hydrator Activated Water-Gel Concentrate, Jack Black Supreme Cream Triple Cushion Shave Lather, Jack Black Turbo Wash Energizing Cleanser, Lab Series Skincare for Men Cooling Shave Cream, Mario Badescu Enzyme Cleansing Gel, Shaveworks The Cool Fix Targeted Gel Lotion, The Art of Shaving The Unscented Pre-Shave Oil packette, The Art of Shaving The Unscented Shaving Cream, and The Art of Shaving The Unscented After-Shave Balm—all in sample sizes. Your friend can now pamper himself with the best skincare products to maintain his great-looking skin. It also comes with great products to use for shaving! 
Environmental Shield Rapid Age Spot and Pigment Lightening Serum by Murad
Murad is an amazing skincare brand and their serum can be your friend's next holy grail skincare serum of all time. This serum is designed to lighten your skin's complexion and fade any form of dark spots lingering on your face. From age spots to acne scars and even freckles, users have seen positive results in just one week of using it.
While the product helps even out the skin tone, it's formulated with glycol acid that exfoliates the skin and removes dead skin cells. The active ingredient in the serum penetrates more quickly for faster results. Dark spots and acne scars can take months to even years for them to fade away. But now your friend doesn't have to wait for them to fade with this awesome serum to quicken the fading process!

NanoSteamer Facial Humidifier by Okachi Gliya
Among the best gifts for skincare addicts you can possibly buy for your best friend, the NanoSteamer Facial Humidifier by Okachi Gliya is basically a spa in a product. Hovering your face over a bowl of hot water can be a great way to open your pores, but it's only a matter of time for the water in the bowl to cool down and stop giving off steam. Instead of relying on a bowl of hot water to open up your pores, this facial steamer is specifically designed to open pores for a longer period of time!
Opening up your pores before giving your face a deep cleaning is the best way to really get into your skin and dig up whatever is clogged in there. The best product to help you out with that is this facial steamer! Not only can it open up your friend's pores, but it fully hydrates your friend's skin and resulting to smoother and softer skin. Have your friend pamper herself in a mini spa with this ideal humidifier that any skincare addict with love.
It's Potent Eye Cream by Benefit Cosmetics
Among the greatest cosmetic brand out there, Benefit Cosmetics creates all types of amazing makeup products. Aside from cosmetics, they also produce the best kind of skincare products your skin will fall in love with. From the best gifts for skincare addicts ever, their It's Potent Eye Cream can help the gentle skin under and around your friend's eyes from aging.
The eye cream is known to help with dark circles, wrinkles, fine lines, brighten, and give off younger-looking eyes! It also helps restore firmness and elasticity. The product is formulated with hydrating botanical extracts and loquat extract that prevents the skin around your friend's eyes from being damaged by free radicals. Look as though you've been getting a full night's sleep every night (even though you're probably not) with It's Potent Eye Cream by Benefit Cosmetics!
Shea Sugar Scrub by Tree Hut
Finally, among the all-time best gifts for skincare addicts you can purchase for your friend's birthday is this award-winning facial scrub by Tree Hut! If your friend is dealing with rough, dry skin, this facial scrub can easily get rid of dead skin cells and expose new and youthful-looking skin. Everyone deserves smoother skin, and this scrub is ideal for achieving that.
The scrub contains whole sugar grains that's known for deep, but gentle, exfoliation. In the formula, it also contains extra-moisturizing Shea Nut Oil to moisturize the skin and help keep your friend's skin looking healthy with vitamin C. Paraben free and DMDM free, never allow your friend to settle with dry, flaky skin anymore when the Shea Sugar Scrub can give her the skin of her dreams!