Blush is powered by Vocal creators. You support
morgan aceves
by reading, sharing and tipping stories...
more
Blush is powered by Vocal.
Vocal is a platform that provides storytelling tools and engaged communities for writers, musicians, filmmakers, podcasters, and other creators to get discovered and fund their creativity.
How does Vocal work?
Creators share their stories on Vocal's communities. In return, creators earn money when they are tipped and when their stories are read.
How do I join Vocal?
Vocal welcomes creators of all shapes and sizes. Join for free and start creating.
To learn more about Vocal, visit our resources.
Show less
Elizabeth Taylor's Egyptian Glamour
Egyptian Allure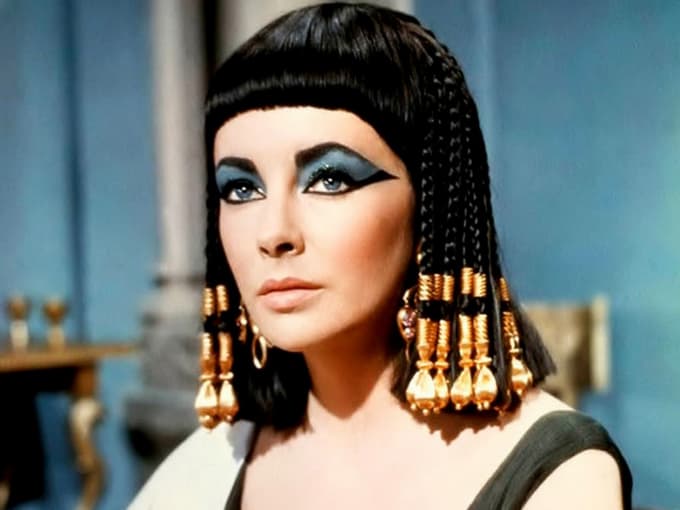 "Cleopatra was the most chaotic time in my life, what with le scandale, the Vatican burning me, people making threats on my life, falling madly in love... oceans of tears, but some good times too." -Elizabeth Taylor
Elizabeth Taylor as Cleopatra is one of the most iconic roles to have been played to date. She was the first Hollywood actress to receive a $1 million dollar salary for a single movie and 10 percent of the film's gross. She not only made her mark in film, but she made her mark in the beauty world. Elizabeth actually did her own eye makeup for this movie! Makeup artist Alberto de Rossi prepared sketches of the look but his back went out before filming began and he wasn't able to be on set due to him needing surgery. Luckily, Elizabeth had watched and studied de Rossi's technique and mastered it herself, adding a few personal touches. Elizabeth's enticing cat eyes inspired a mania for Egyptian chic looks.

The New Cleopatra Look
"If looks could kill, this one will!" promised an amazing ad by Revlon in 1962. Revlon was promoting a "sphinx pink" lip and smoky charcoal shades for a "madly mysterious" eye look a year before Elizabeth's historical movie because the star herself had been rocking the Cleopatra look in an array of glitzy locations with her handsome co-star. After the film's release, women pretty much followed Taylor and re-created her makeup looks with the help of brands like Revlon that launched entire lines dedicated to the Egyptian-inspired chic look. Now decades later, people still reference back to Elizabeth as Cleopatra for inspiration and/or ideas. Timeless and classic makeup always finds its way back into today's trends.

Sphinx Eyes...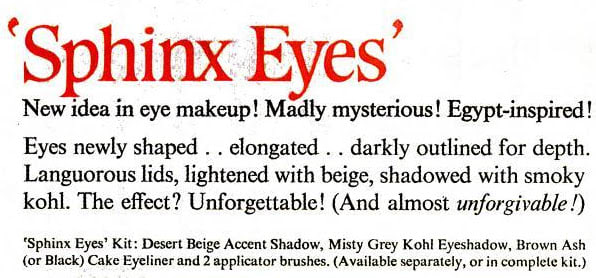 The center of attention for any Egyptian-inspired look is definitely the eyes! The heavy, smoked out eye shadow with exaggerated winged eyeliner was all the rage. Elizabeth's makeup, characterized by an opaque shade of stormy blue, was applied to the brow and framed with thick graphic eyeliner stretched out toward the temples. This fuelled the trend for elaborately decorated eyes well into the mid-60s. The effect? "Unforgettable!" according to Revlon. 

Sphinx Pink...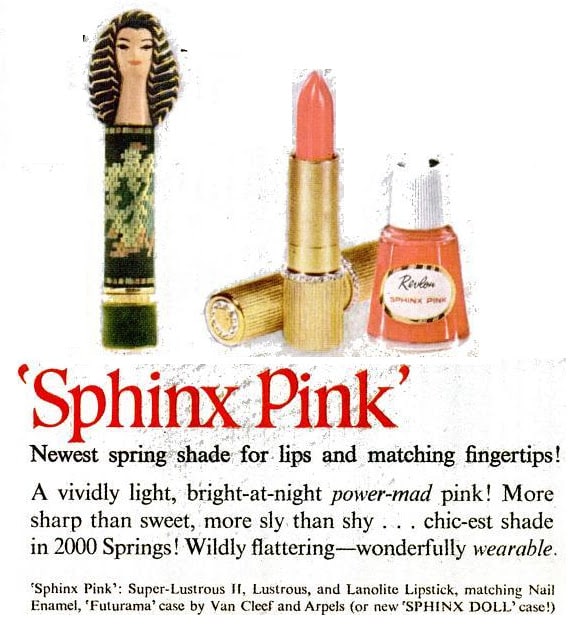 With the center of attention being the eyes for this Revlon ad, neutral shades like the pink shown above were necessary to help the eyes stand out even more! Nails were also to be muted and/or nude, nothing mattered except those bold and dramatic eyes. Elizabeth was vey minimal with her lipstick and nail color choices as well. With the Sphinx Hairdo like the one she wore in the film, you really didn't need much else. Although, the true Cleopatra glamour does call for bold red lips and red nails as well as an armful of bracelets, light pink lips were more common. There were red options like the one shown below, but it really was about personal preference! You could go for a neutral or a bright color.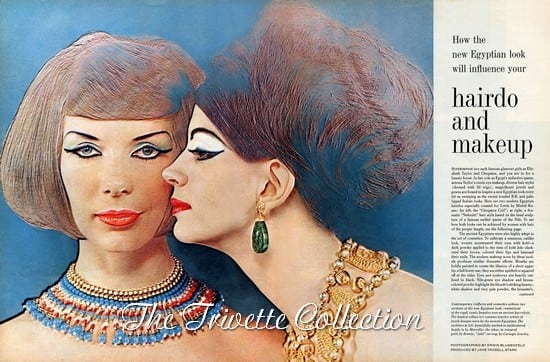 I personally love this eye makeup with the red lipstick, something about red lipstick just makes any look automatically appear more glamorous.

A Modern Take on This Classic Look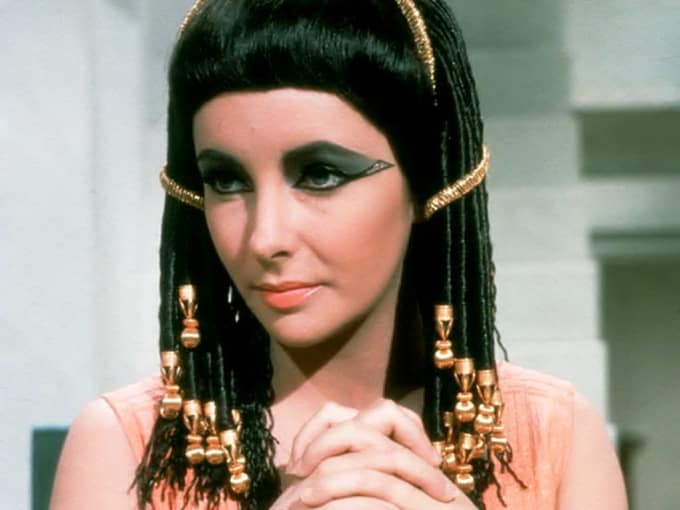 Prep your lids, up to the brow bone with primer. Too Faced has one called shadow insurance that is amazing. Elizabeth's violet eyes were the focal point for this look so you'll want to cover yours in shades that last all night long!

Apply your shadow with a very heavy hand! Although Elizabeth wore a Nile blue for the film, sixties Cleopatra's typically opted for thick, white eyelids or charcoal shades. Urban Decay's eyeshadow in Deep End is almost exact to her signature color in the film. Take the color all the way up to your brow bone and pack it on. Don't be shy when using this, you're Queen Cleo now! A little bit of Urban Decay's Midnight Cowgirl on top would add an extra sheen if you wish for more. Cleopatra loved everything that glittered.

Generously, I repeat, generously, apply black liquid eyeliner along your upper lash line and wing it out to create Elizabeth's angular diamond shape. Drawing this shape may take a bit of practice but it's achievable. You can fill it in or leave the outline; it's up to you. Don't forget to cover your lower lash line with liner too! Stila has the best, jet black liquid eyeliner. If you aren't feeling that adventurous, opt for a simple and more subtle winged out liner that you've probably done a million times.

Elizabeth has naturally thick and dark lashes that look almost fake! Just to give you an idea of how prominent they were, at 13 when she filmed Lassie, production ordered her to scrub off the thick mascara she was wearing but she wasn't wearing any at all! Unreal! You can accomplish this by either using lots of mascara or by applying falsies. I prefer the no-clump look so I think falsies are the better and the easier option. Whip out the fullest and most dramatic falsies you have! Ardel lashes are great quality and affordable; try their double Demi Wispies.

Brows should be thick and angular. With such heavy eye makeup, you can't let your brows disappear. Anastasia's brow definer is smooth, easy to use, and it's very pigmented.

Apply your lipstick! There are no rules; you can apply whatever shade you choose but red would look extra glamorous. Kylie cosmetic's Mary Jo K red lipstick is amazing. It's a true red and it stays on forever and a good nude/pink option would be Pure Zen by MAC, as it's very creamy.

Finish with talon-like, blood red nails. This just completes the look so don't argue with me on this one. Try Dior Vernis in Rouge!

Products Mentioned Can Be Found Below:

Too Faced Shadow Insurance
Literally the best eye primer, you're welcome!

Urban Decay's Deep End
It looks like this color isn't for sale anymore. I could only find it on eBay, sorry!

Urban Decay's Midnight Cowgirl
This is a staple in anyone's kit, personal or not.

Stila Eyeliner
This liner is seriously smudge proof. A game changer for sure!

Ardel's Double Demi Wispies
These are beautiful alone and they compliment every eye shadow look too. So universal.

Anastasia Beverly Hills Brow Definer
The best brow product ever! It's so smooth and easy to use you can't mess it up.

Kylie Cosmetic's Mary Jo K
My all time favorite red lipstick. It doesn't flake or shift and it looks good with so many different skin tones.

MAC's Pure Zen
The prettiest pale pink! It's so moisturizing.

Dior Vernis in Rouge
I cannot get enough of this color! It's the perfect, classic red.