Blush is powered by Vocal creators. You support
Taeja Williams
by reading, sharing and tipping stories...
more
Blush is powered by Vocal.
Vocal is a platform that provides storytelling tools and engaged communities for writers, musicians, filmmakers, podcasters, and other creators to get discovered and fund their creativity.
How does Vocal work?
Creators share their stories on Vocal's communities. In return, creators earn money when they are tipped and when their stories are read.
How do I join Vocal?
Vocal welcomes creators of all shapes and sizes. Join for free and start creating.
To learn more about Vocal, visit our resources.
Show less
Raw Beauty of a Black Woman
My Truthful Reason for Locing My Hair
Having dreadlocks is the best decision I ever made in my entire life!!!! I just simply adore the fact I get to just wake up in the morning and not having to worry about styling my hair for the day. I named this story "Raw Beauty of a Black Woman" because I wanted to give you the readers an insight look on my journey to where I'm at now. I hope you're inspired by this story to share your own journey.
When I first announced to my family that I decided to loc my hair two months ago, they didn't believe that I would do it because I would constantly change my hairstyles every month or two but after doing a six month thorough research about dreadlocks and actively listening to other YouTubers like EssenceofShay and Danielle Loxs, I felt more empowered to pursue growing my own dreadlocks. To me, locs symbolize life that I haven't even tapped into yet, it's like a second chance at living the life that I want to live and pursuing old and new achievements that I should have pursued prior to me being on my loc journey. Imagine living your entire childhood not knowing how to truly love yourself and when you enter your early 20s or early 30s , you're just now learning about self-love on your own. Wouldn't it be nice to learn that when you were growing up? But nonetheless I'm glad I learned it now rather than later one in life when I'm old and grey because I get a chance to better myself and influence others in the same position. 

Prior to starting my loc journey, I was a loose natural for over 3 years and I straightened my hair almost every week because I was so obsessed  with having "manageable" hair and making sure I was "approachable" according to society's standards because I thought that's what I needed to look like in order to get a good job and live a good lifestyle with the "perfect" man and wonderful kids that I so desired to have. Growing up I was always told that I had to present myself for the job that I want in the future because you never know who is watching you, so I had to keep up with my "perfect" appearance in every way possible. Well during that time I lost or should I say misplaced my identity and I didn't know how I was nor did I know my self-worth as the strong, self-identifying Black woman that I'm maturing into today. When I was growing up I never really thought about getting dreadlocks because I never really saw anyone with them and it wasn't really popular back in the early Millennial era but now that I'm 23 years old (and capable of making my own decisions lol), I decided to do an extensive 6 months long research on YouTube and reading other articles on Locs and why so many people in the black community grew their own dreadlocks and it came to my attention that most of them did it because they were either looking for a change in hairstyle or a change life-altering change that would help  them accept themselves for who the Black kings and queens that they are. My reasoning for growing locs is quite similar but mainly the reason why I'm doing it is to prove to my family that I can stick to something without being indecisive every three months about what I want to do with my life, So in a way this is a prove my family wrong type of thing.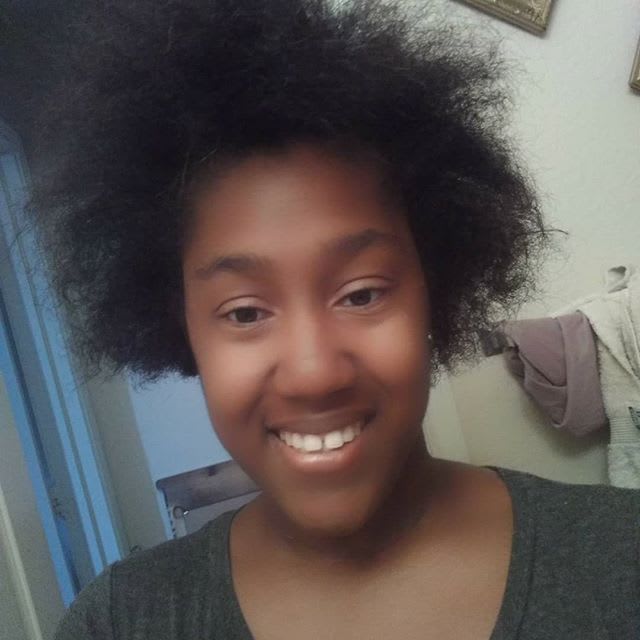 After doing research on what method I wanted to do, I decided the best one for me is the two strand twist method reason being is because it was very easy for me to install and it still looked really cute on me. Lol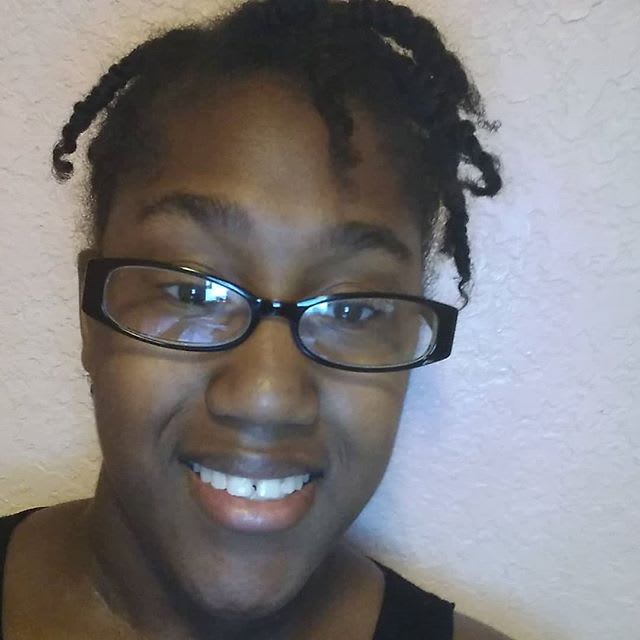 Within a week of installing my two strand twist, My hair began budding (forming into locs). I went to a loctician (loc stylist) during my first week of my loc journey to see if I needed to do anything else to my hair to keep it healthy during this process and as she checked my hair out, she was even surprised at my hair's progress but ultimately she said I was doing a good job so far on my progress so I didn't go back until I was one month into my loc journey for a wash and retwist which was really expensive ($85!!!!). I loved my retwist but I wasn't going to go back because I could wash my hair and retwist it for free. Lol 
During my first month my mom was really supportive and she even helped me buy some of the products I needed to wash my hair (Design Essentials Oat and Henna Shampoo, Rosemary and Mint Conditioner). I talked about my loc growth alot because for the first time in my life I was passionate about something which made my mom get so excited for me to the point where she started asking questions like "so how long are you going to grow your locs?", "Can you take out your locs if you wanted to?" , "If you were to learn how to do other people's locs, can you make money off of it?" I was excited that my mom finally showed interest in something I chose to do on my own. I told her that I want to grow my locs long and thick for over 20 plus years and I have no plans on cutting them or combing them out. I also told her that I could make money just by doing locs if I got my cosmetology license but I don't plan on doing that anytime soon. Hahahahahahaha I honestly don't want to be a loctician because that's not what I'm meant to do in life, in fact I honestly don't know what I'm meant to do but I know it's not hair. Lol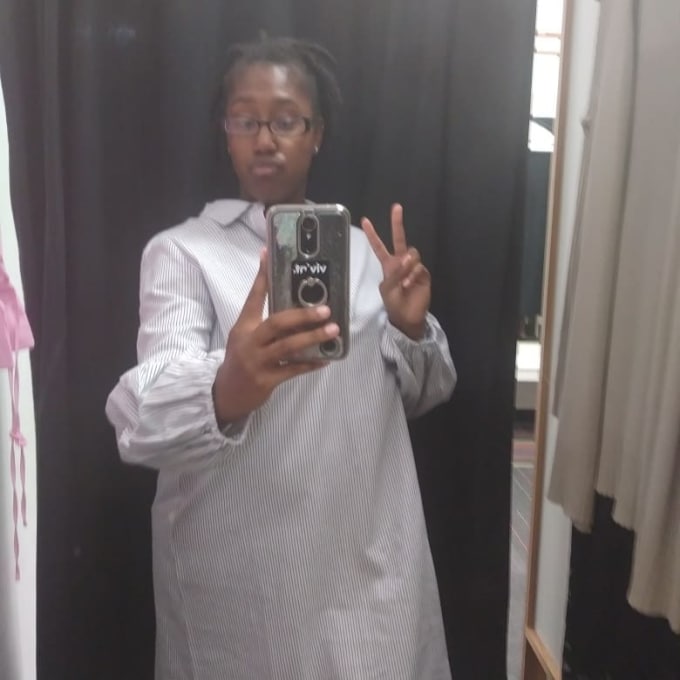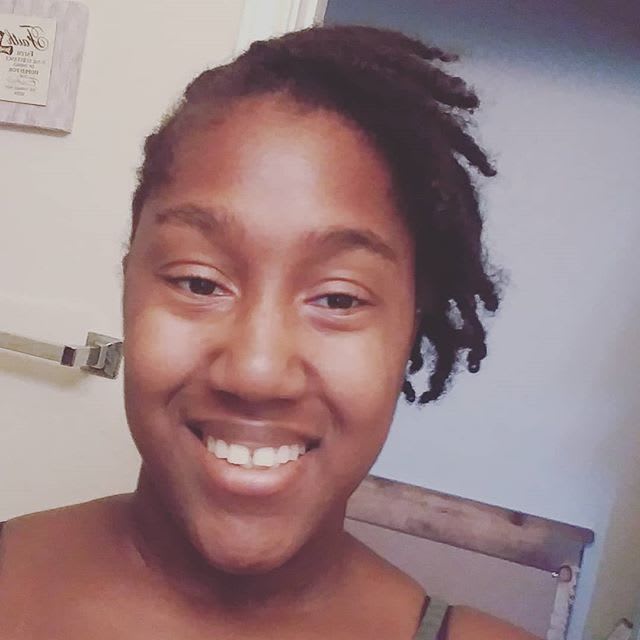 Now that I'm in my 2nd month of my loc journey, my hair has grown in length and doubled in numbers (I forgot how many locs I have, Lol). I've become more confident in myself and I've grown more spiritually inclined. I can't wait for more exciting things to come. Thanks guys for reading, see you next time :)